Let's start with a small presentation who is Gaetano?
I'm a 22-year-old boy who only recently discovered photography. I was born in the northern suburbs of Naples, where I grew up and still live today.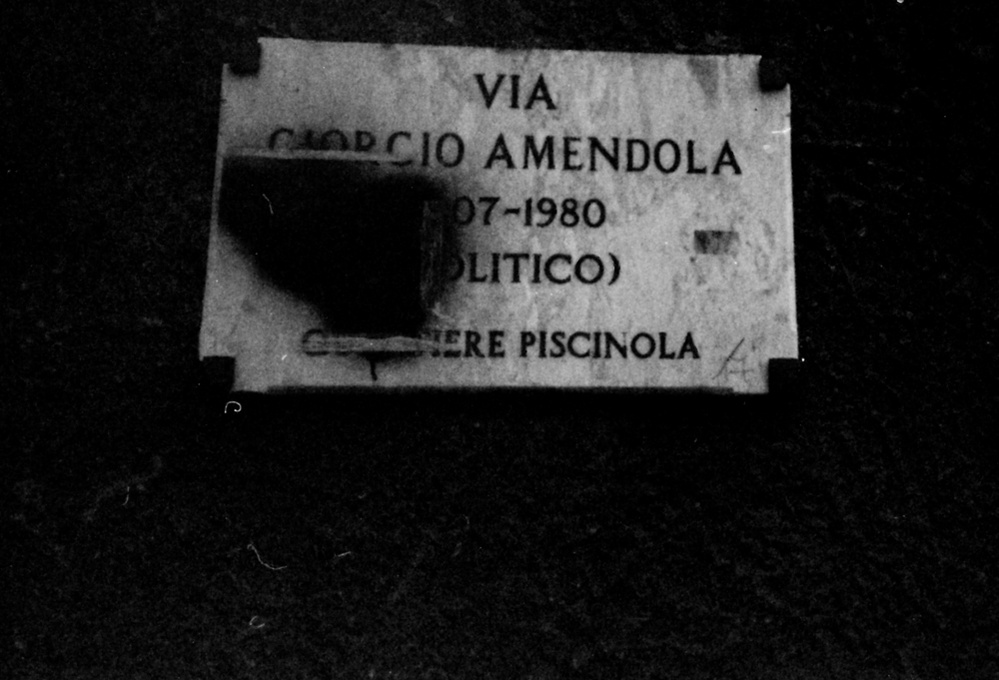 When did you start taking pictures? Do you remember what it felt like?

I remember I started taking pictures while I was going through a really bad time. I suffered for years from a strong form of irrational anxiety that forced me to stay home all through my adolescence, so it was natural for me to associate photography with the possibility of moving with a goal that would dampen my fears and, in a way, even the possibility of healing.
In a month or so I had shot all the gardens, parks and museums in Naples, both public and private. It was liberating, just as if in that moment I had discovered that I had a mouth and that I could scream something, and even simple insignificant sounds were fine. They were all right then. After a few months, however, I already started to ask myself the first questions about the meaning of what I was doing, about what my visual contribution could really give to someone; these questions are still with me today, but I can say that I grew up trying to find the answers.
It also works the other way around, I believe; I feel more if I photograph. Can photography be preparatory to a greater understanding of ourselves?

Yes, without a doubt.
I believe that in photography, as in any form of art, there is always the need to seek and understand ourselves. Only through this research, the desire to express oneself takes forms that are recognizable to the eyes of others and to our own.
Without this, without a strong desire to understand each other, the image produced is just the spelling of a word that can be easily said with the mouth.
It is perhaps for this reason that today I prefer false appearances, confused forms and everything that goes beyond a static meaning to be found and put aside.
It is no coincidence that almost all of us have strong tendencies towards self-destruction: this research is the best trigger for self-destruction, or self-torture.
Only struggles lead us to understand and grow, in life as in photography; they make us to look for a comfort zone different from the one we have left behind, and by walking this road we discover ourselves.
Seeing your photos one always seems to perceive a continuous in-out-in-out, it's almost tiring. Is photography a necessity for you?

My need does not lie in photographing, but in seeking my own language through the suggestions and sensations I feel.
Under this light, photographing is like feeling, and sometimes like dreaming, because like dreams we cannot control what we feel.
I often associate photography with the psychotherapy that I do several times a week, because both are made up of a continuous attempt to grasp something that is in itself an idea or feeling, literally, and it is frustrating to see how the tangible realization of a moment is able to completely change the starting feeling, then the search starts again.
I don't know where it will take me, or if it will take me somewhere, but just thinking about making mistakes and growing up gives me a lot of strength.
Tell me about Möbius, how did it go?

Möbius was the result of a special edition of the "Laboratorio Irregolare" by Antonio Biasiucci, and was presented and exhibited in the Museum of Villa Pignatelli (Naples).
It consists of a series of 12 self-portraits in b/w in which my body appears with all its faults.
The idea was born from various issues - still unresolved today: an initial tendency of mine to self-portrait as a form of self-awareness, a pressing urgency to show my body and, through it, my past and my shortcomings.
There is a strong visual emphasis in the photos because I wanted to erase the compassion and pity that I always felt on my skin, and at the same time I wanted them to give way to the mysticism that was fundamental throughout my adolescence.
There was almost a reverence for everything related to wounds and the process of healing wounds.
The human body will never cease to amaze me.
What really pisses you off?

Indecision, and I'm eternally indecisive myself. The only solution I was able to find is to make a decision and try not to regret it after 2 hours, otherwise I'll never get out of it.
Have any artists influenced you? Even unconsciously?

Yes, and very consciously too!
I've always been fascinated by the photographer David Nebreda, I find that the sacredness of his images automatically commands respect to the observer, although at the same time one may feel too impressed.
A photo you're particularly fond of? Show it to us.

Tell me an anecdote, something curious that happened while you were shooting.

The most particular experience is definitely related to how I approached photography.
For many people it may not be that funny, but today it still makes me smile.
About 4-5 years ago, I committed a small theft in a bookstore: I had no money to buy a picture book by Lorenzo Matteotti, so I tried to steal it and, of course, I was caught immediately. I've never been good with these things.
Having said that, the owner called the police and, after not even a month, I found myself in a social cooperative working as a secretary to serve for that sort of "sentence". During this time I learned about a short photography course that was held there in the afternoon, and because I was afraid to go back and shut myself in the house, I took part. I liked it right away, and my first camera with a lens was my teacher's camera.

One or more obsessions. If you have any.

I am obsessed with various things, but first and foremost with everything concerning man and his self-destructive tendencies.
Besides, I am a regular poetry reader; I started reading poetry when I was 14, through Pessoa's work, and I never stopped.
In the future I will certainly try to combine photography and writing.

Thanks for the talk!

Thanks to you for giving me the opportunity to answer these questions, but above all thanks for making me discover excellent photographers (among which there's you).
And thanks to you who read this far!

If you want know some more about my photography and my books you can find me here:

https://www.instagram.com/gaetanoippolito_/
Thanks to my friend Patrizio Mancuso https://www.instagram.com/strange.behaviour/ For translation.